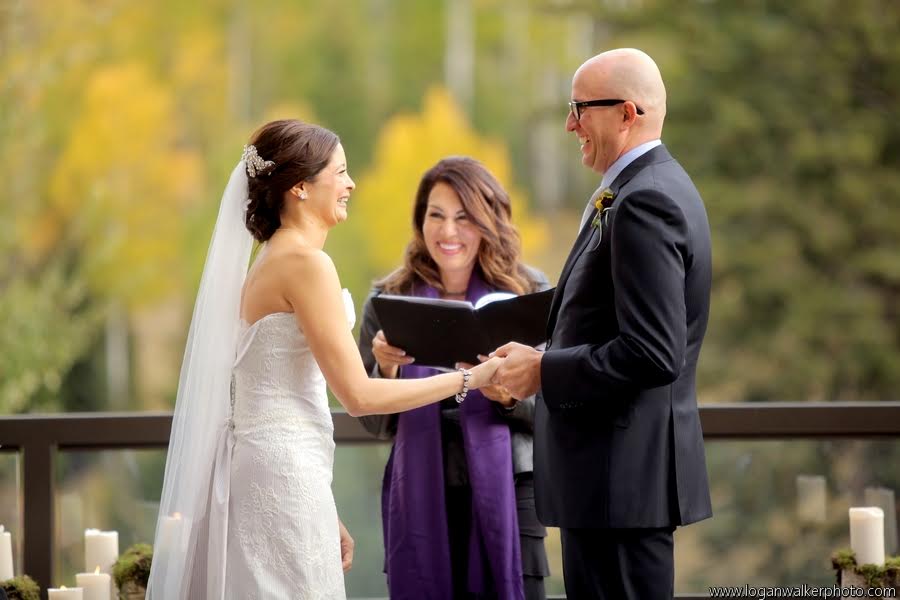 Please enjoy this free wedding ceremony guide. This will outline your entire wedding ceremony and make sure you aren't missing anything. Enjoy, and please contact me if you have any questions! 
Outline of Wedding Ceremony
A Tradition Wedding Ceremony
Entire wedding party dressed and in sanctuary for pictures
Wedding party in annex
Solo(s)
Seating of Honored Guests
Begin Processional Music
Seat groom's grandmother
Seat bride's grandmother
Seat groom's parents
Seat bride's parents
Begin Processional  
Pastor and Groom enter from side
Groomsmen and Bridesmaids
Maid/Matron of Honor and Best Man
Flower Girl and Ring Bearer
Begin Wedding March 
Bride with Father enters
(Bride's mother stands as signal for all to stand)
Prayer (optional)
Congregation asked to be seated
Opening Remarks
Giving Away of the Bride
Challenge to Bride and Groom
Scripture Reading (optional)
Congregational Hymn or Solo (optional)
Flower girl and ring bearer sit down
Congregational Hymn (optional)
Wedding Party Moves to Platform
Bride and groom faces one another
Wedding Vows
MarriageRing Vows
Special Ceremony (optional), 
Unity Candle, Rose Ceremony, Sand Ceremony
Benediction or Prayer (optional)
Pronouncement
I now pronounce you Husband and Wife
Prayer (optional)
The Kiss
Introduction
Recessional
**Bride and Groom
**Matron of Honor and Best Man
**Bridesmaids and Groomsmen
**Flower Girl and Ring Bearer
**Groomsmen/ushers return for honored
guests who are escorted out in reversed order of their entrance.
**Ushers may dismiss rest of guests or usher them out row by row.
Wedding Ceremony Guide
By: Roxanne Hunt
It's YOUR day and maybe the most important day of your life! By being aware of a few simple steps in advance listed below, your wedding ceremony can be the most beautiful day of love ever.
Choose someone who requests an initial face to face meeting. If not, then it is okay for you to ask for this. You need to be sure that the person you choose "looks" the part, resonates with you and connects with both of you as a couple. How else will you know this unless you meet first in person? Don't leave anything to chance!
Don't just go on qualifications or the number of weddings performed. Having "100" so-so weddings to boast about versus 2-3 amazing ones…makes a big difference. Quality…not necessarily quantity. Reading a few testimonials about past services or a brief phone chat with a past client can tell you a ton.
Ask yourself…"Do I feel like I can trust this person? Notice how organized the person is, are they listening, are they taking notes, are they asking you lots of questions. After all it is about YOU…and not them. Do you like this person?
Does the officiant give you options and offer to customize things to your liking? If you don't know what you want, are they helpful in giving suggestions or past examples?
Even though you love your best friend or great aunt and they have offered to perform your ceremony, remember that a desire to perform your ceremony does not necessarily make for a great officiant. Most people mean well but are not always great in front of a crowd unless they have had some experience.
Most seasoned officiants will charge anywhere between $250 and $400 to perform your wedding. Are there cheaper options? Yes, of course and you are free to choose. However, remember you often get what you pay for. Be willing to put some money towards the most important part of your day…don't be disappointed by poor quality all because of saving a few dollars. You will regret doing so. Know that traveling a bigger distance or spending extra time to customize your ceremony will result in more time for the officiant and thus more expense for you.
Be willing to meet with several people if the first officiant you choose doesn't seem like the best fit. Usually within a few minutes, you can get a good "feel' for someone.
So….now that you have chosen your officiant, what else do you need to think about?
The following tips will help make everything flow smoothly for you.
Don't try to pack too much in to your ceremony. Generally speaking, 20 minutes is about right for the average entire ceremony and processional. Any less than 15 minutes and it may seem like something was missing….more than 30 and people will start to lose focus.
Consider writing your own vows to each other. This is often the best and most heartfelt part of the ceremony. After all, vows should be YOUR words and not someone else's.
Make sure you go over all the details with your officiant in advance. It is not always necessary to have an actual rehearsal beforehand unless things are complicated or unique in some way, but it IS necessary to go over all the details at least 1-2 times beforehand and especially a day or two before the big day. Some couples like to read and know every detail of the ceremony beforehand…others like part of it to be a surprise. Decide what your level of comfort is with your officiant and if you want to hear some of his/her words for the first time at your ceremony.
Be careful about inviting people to speak during the ceremony. This is usually best kept for the reception.
Nothing about your wedding has to be done a certain way. Traditional is traditional but it is possible to totally do things your own way. Remember, it is YOUR day! Make your own rules.
I always recommend that couples videotape the ceremony. I promise that if you don't, you will wish later that you had. Also, ask the officiant for a copy of the ceremony so you will have it to read afterwards and remember. Often it's fun to re-read the ceremony together each anniversary.
Is it customary to tip the officiant? Some couples do…many do not. It is always appreciated but not expected.
RELAX and SMILE…..Enjoy every step of the planning and your big day. With the right people in charge, you can relax and let them worry about all the details. CONGRATULATIONS!
I hope that this brief guide has been helpful to you. If you have any questions, please don't hesitate to call or email me inspiringyou@gmail.com
Phone: (323) 553-7286
It would be my pleasure to serve as your wedding officiant. I guarantee you will LOVE your ceremony and will feel confident knowing you are in expert hands with someone very professional, experienced, caring and passionate about joining hearts and celebrating love…
Congratulations and Blessings,
Reverend Roxanne
Roxanne Hunt (323) 553-7286
inspiringyou@gmail.com